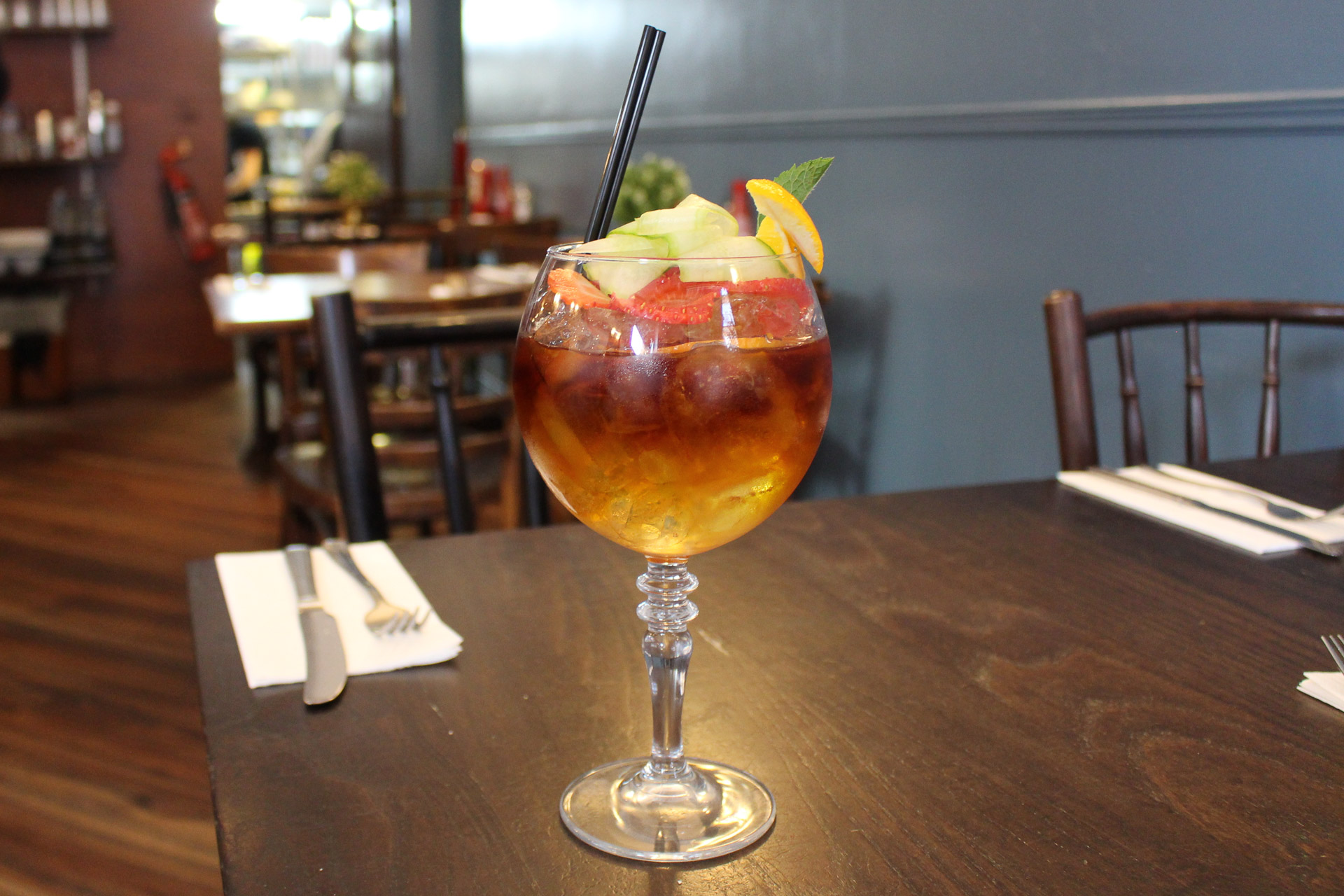 Johnnie Walker Black Label
£5.95
(Strawberry, Cucumber, Orange & Lemon)
£7.95
(Strawberry, Cucumber, Orange & Lemon)
£18.95
Glass 125ml | Glass 175ml
A dry white, straw-yellow coloured with greenish highlights, his herbaceous fragrance is reminiscent of elderflower. It's good underlying freshness is matched by pleasant softness.
From £5.50
Riesling is an aromatic grape variety displaying flowery, almost perfumed aromas, as well as high acidity.
£26.50
Chablis (France Burgundy)
Citrus & white flower aromas with dry, lean light-bodied flavors of citrus, pear, minerality, and salinity.


£36.50
Bottle | Glass 125ml | Glass 175ml
Light, dry, beautiful lush aromas of yellow fruit, almond and spices. A great balance between concentration and fruit.
Category

: Wine

Type

: White
From £5.50
Trebbiano D'Abbruzzo (Italy)
Bottle | Glass 125ml | Glass 175ml
Straw yellow with greenish reflections and fresh, fruity bouquet. The palate is soft, smooth and fragrant.
Category

: Wine

Type

: White
From £5.95
Bottle | Glass 125ml | Glass 175ml
A dry white wine with a straw hue. It stands out for its finesse and its persistence on the palate. Matches well with rather elaborate fish recipes.
Category

: Wine

Type

: White
From £5.50
Cortese is the grapes behind the wine of Gavi Di Gavi and its distinguished by its crisp, floral, peachy aromatic qualities.
Category

: Wine

Type

: White
£32.50
A lovely combination of a dry - medium to full-bodied wine with moderate acidity and alcohol. Its flavours range from apple and lemon to papaya and pineapple, and it also shows notes of vanilla when it's aged with oak.
£23.50
Bottle Bottle | Glass 125ml | Glass 175ml
Full bodied wine. The Shiraz is opaque, ruby-purple in hue and often concentrated jammy aromas and flavours of blueberry and blackberry, along with big, ripe tannins.
From £5.95
Spain's most famous regional wine featuring Tempranillo grapes. It is known for its structure and tannins, but it also has a fruity characteristic
£26.50
Bottle | Glass 125ml | Glass 175ml
Frappato is a typical Italian grape variety. Light, soft tannins and an abundance of fruit, especially blackcurrant and strawberry.
From £5.50
Bottle | Glass 125ml | Glass 175ml
Dry, full-body red wine. Deep blue grapes are a cross between Cabernet Franc & Sauvignon Blanc with thick, durable skin and hearty vines.
From £5.95
The colour is bright, deep ruby red with slightly garnet tints. The nose perceives the full clean fragrances of forest fruits, spices, cherries while on the palate blackberry conserve and spices are the notes that stand out from a smoothly blending suggestion of wood.
£36.50
Barolo by Luigi Oddero (Italy)
Bright garnet red colour which tends towards brick red with age. The nose is rich and complex with notes of forest fruit, herbs, dry flowers, liquorice and pine.
£65.00
Montepulciano D'Abruzzo (Italy)
Ruby red in colour with faint violet hues. A vinous and intense bouquet combines with a pleasantly tannic, full-bodied and harmonious palate.
£25.50
Bottle
Full-bodied dry wine and exhibit rich, dark fruit nose and flavours like blackberry and red plum juicy and jammy, with notes of vanilla, tobacco, dark chocolate and oak.
£25.50
House Rosé Wine (Spain) Marques de Calado Rose
Bottle | Glass 125ml | Glass 175ml
Produced in Spain, made from Pinot Grigio grape and a small proportion of Pinot Noir, grapes, this dry and fruity rosé is crisp and lively with good intensity of ripe berry fruit.
From £5.50
Pinot Grigio Blush (Italy)
The colour of this delicate blush wine comes from the skin of pink-tinged Pinot Grigio grapes. This is a fresh and crisp wine with zesty aroma and fruity flavour with notes of ripe pear and peach.
£22.50
Commanderie de Peyrassol, Cotes de Provence (France)
This dry rose' has spicy warmth to the fruit, lifted by refreshing acidity and a peachy edge. Notes of strawberry predominate and background notes of white pepper.
£34.50
Rosamara Rose' "Il vino di una notte" by Mattia Vezzola (Italy)
"The wine of one night" is a winemaking technique that requires the winemaker to be present for 24hours, applying the tears method, which uses the core of the grape. The colour is pale candy pink on the nose it is inviting, ample with a hint of mayflower. The taste is harmonious, fresh, with excellent persistence.
£39.00
Curious Apple Cider, Chapel Down 330ml (UK)
£5.50
Peroni Nastro Azzurro 330ml (Italy)
330ml
£5.20
Meantime Pale Ale 330ml (UK)
330ml
£5.20
Curious Brew Lager, Chapel Down 330ml (UK)
330ml
£5.50
Hoegaarden Wit Blanche 330ml (Belgium)
330ml
£5.50
Birra Moretti Premium Lager 330ml ​(Italy)
330ml
Brand

: Moretti

Alcohol Content

: 4.6 %

Fermentation

: High Fermentation
£5.50
Becks Blue (Non Alcoholic) 275ml (Germany)
£4.50
330ml
Curious Apple Cider, Chapel Down 330ml (UK)
£5.50
La Marca Prosecco 20cl (Italy)
20cl
Delicate and aromatic with a light body and fine bubbles. This wine carries lots of fresh peach, pear, apricot and apple.
£9.50
Fragrances of spring flower, pear and apple. The flavour is soft, with a creamy fruitiness and hints of almond.
£26.00
Prosecco Corte Alta (Italy)
Delicate and aromatic with fine bubbles. This wine carries lots of fresh peaches, pear and an elegant zest.
£40.00
Taittinger Brut Reserve (France)
The Taittinger is golden straw yellow with fine bubbles. It exudes aromas of peach, fruity and bready, and with white flower.
£65.00
Moet and Chandon Brut Imperial (France)
Perhaps the best known Champagne, the Brut Imperial from Moët embodies their house style: crisp and clean, this classic Champagne shows citrus aromas and hints of biscuity flavours.
£90.00